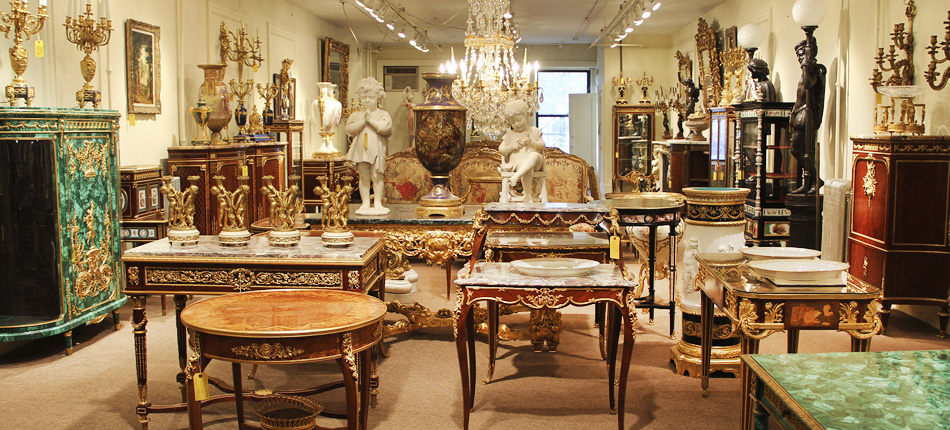 For nearly 100 years and four generations, Charles Cheriff Galleries has been one of the worlds leading antique dealers specializing in 19th Century Antique French Furniture, Light Fixtures, Chandeliers, Sconces, Mirrors, Pianos, Fireplaces, and European Porcelains, Bronzes and Marble Sculptures.
Located in the heart of New York's Greenwich Village and the Importing and Wholesale Antique District, Charles Cheriff Galleries showcases their inventory of over three thousand Antiques throughout their 16 thousand square foot building. A visit to Charles Cheriff Galleries with all seven floors of antiques, will bring the elegance of 19th century Paris to your fingertips.
The history of our company begins with our grandfather Charles Cheriff Wachman. As a young man he always appreciated the beauty of finely made furniture and porcelains and realized that these items were equally appreciated by others. With this in mind he opened Charles Cheriff Galleries in 1924, renting a small space on the second floor of 84 University Place. His business philosophy was simple, buy the best merchandise and sell it at a fair price. Following the War years our father Murray Wachman joined the firm and began traveling to England and France. Charles Cheriff Galleries became one of the first companies to begin importing 19th century merchandise. As our reputation, and the demand for fine antiques grew, Cheriff Galleries also grew, now occupying three floors.
Following our college education in the 1970's, Stephen and I joined our family's business. Today, using the same simple philosophy, buy the best and sell at a fair price,
My son, Jonathan, joined the business in 2002 after graduating from Tulane University in New Orleans. His deeply-rooted passion for the antique business propelled him to follow in the footsteps of three generations of men in our family. Now, as a Vice President and a 4th generation of Charles Cheriff Galleries, one of his most significant contributions has been maintaining the basic founding principles while bringing the business into the 21st Century.
Today, Charles Cheriff Galleries occupies 7 floors and continues to be a major source of fine antiques through out the World.
We ship to customers from all over the US and the world. Dealers, decorators and museums are all welcome. Movie, film and TV show rentals are available.
— Alan Wachman
In The Press: