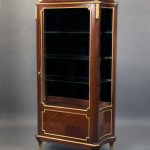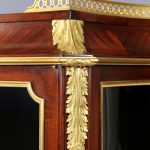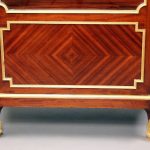 A Fantastic Late 19th Century Gilt Bronze Mounted Louis XVI Style Vitrine By Victor Raulin
$45,000
Victor Raulin
A center glass door with three shelves, quartered veneer bottom and sides.
Stamped Raulin twice on the top, back of the carcass.
Raulin exhibited and received silver medals at both the 1878 and 1889 Expositions Universelles He is particularly well known for his furniture in the eighteenth century style and the use of lacquer panels.
Details:
Height – 67 inches / 170cm
Width – 35 inches / 89cm
Depth – 15 inches / 38cm
Maker – Victor Raulin