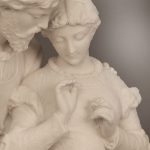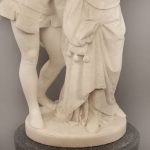 A Fantastic Late 19th Century Italian White Carrara Marble Entitled "Paolo and Francesca" by Pasquale Romanelli
$55,000
The finely carved sculpture depicting a scene from Dante's Divine comedy wherein the doomed Paolo embraces Francesca.
Inscribed Prof. P Romanelli Florence
The Florentine sculptor Pasquale Romanelli achieved an international reputation for his finely carved mythological and biblical marble figures. Romanelli began his training at the Accademia di Belle Arti in Florence under Luigi Pampaloni but was soon taught by the foremost Tuscan neoclassical sculptor, Lorenzo Bartolini. Remaining in Bartolini's favour, he went on to become his collaborator and, upon the master's death in 1850, the successor of his studio. Romanelli's mythological and allegorical compositions were highly prized by a cosmopolitan clientele, and he exhibited select models in Paris. One such work, La Delusa, which he presented in 1851, was acquired by the Hermitage Museum in Saint Petersburg. In addition to collectors' marbles, Romanelli executed numerous important commissions for monuments, such as those to Vittorio Fossombroni in Arezzo, Masi in Pavia, and Demidoff in Florence. Romanelli's final tribute to his master, Bartolini's tomb monument, is housed in the Church of Santa Croce in Florence. After Romanelli's death in 1887, his son Raffaello and grandson Romano continued his legacy which lives on to the present day; the Romanelli studio, now a private museum, remains a rare survival in Florence.
Sculpture
Height – 34 inches / 86cm
Width – 20 inches / 51cm
Depth – 14 inches / 36cm
Pedestal
Height – 37.5 inches / 95cm