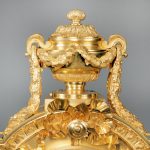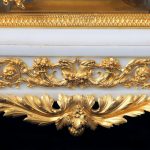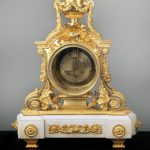 A Fantastic Quality Late 19th Century Gilt Bronze Mounted White Marble Mantle Clock By Charpentier & Compagnie
$12,500
By Charpentier & Compagnie
An urn with laurel leaves above a tied bow, the sides with swags of flowers and fruit, the marble base mounted with a double eagle head and cornucopia.
The clock face inscribed Charpentier & Cie Bronziers, A Paris Rue Charlot 8.
The renowned bronzier Charpentier was located at 8, rue Charlot in Paris and numerous clocks created by this firm are now in the permanent collection of the Mobilier National Français. They exhibited mantel clocks, garnitures, torchères and vases at the Exposition Universelle of 1878 in Paris.
Details:
Height – 22 inches / 56cm
Width – 17 inches / 43cm
Depth – 7 inches / 18cm
Maker – By Charpentier & Compagnie