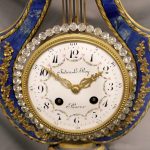 A Fine 18th Century Gilt Bronze and Lapis Lazuli Striking Lyre Mantle Clock
$25,000
The blue Lapis case with radiant Apollo mask cresting and with swag and stiff leaf mounts, on stepped oval base with toupie feet, with mock gridiron pendulum swinging a paste gem set bezel around the white enamel Arabic dial painted with floral swags.
The enamel dial signed 'JULIEN LEROY / A PARIS'
Julien Le Roy (1686-1759) was regarded by his contemporaries, as perhaps the most influential horologist of his era. He was a superb craftsman as well as a scholar who contributed the section on horology to the Encyclopédie. He was eulogised by Voltaire as the man responsible for the 18th century preeminence of French clock making.
Born in Tours and trained by his father, Le Roy arrived in Paris around 1700. He is generally thought to have served as journeyman to the Parisian horologist, Charles Le Bon.
Lapis Lazuli is one of the most sought after stones in use since man's history began. Its deep, celestial blue remains the symbol of royalty and honor, gods and power, spirit and vision. It is a universal symbol of wisdom and truth.
Details:
Height – 18.5 inches / 47cm
Width –  7.5 inches / 19cm
Depth – 4 inches / 10cm