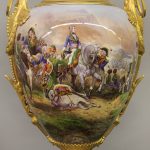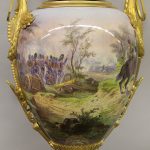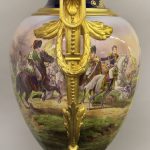 A Fine Pair of Late 19th Century Gilt Bronze Mounted Napoleonic Sèvres Style Vases
Each vase of ovoid form with "wrap-around" painted battle scenes of Napoleon on horseback before soldiers, with nice gilt bronze handles on either side, the covers are decorated with a raised gilt "N" and a crown, flanked by oak and berried laurel branches, the necks with an eagle with spread wings, the bases with raised gilt designs and key battle dates of 1797 and 1805, all standing on a bronze base.
Signed by the artist H. Desprez Sevres.
The vase with 1797 depicts the battle of Rivoli, where Napoleon defeated the Austrians in Italy for the 4th time, and the vase with 1805 pictures the battle of Austerlitz, which is regarded as the greatest victory by Napoleon, where his troops defeated the much larger and powerful Russian and Austrian army led by Emperor Alexander I and Holy Roman Emperor Francis II.
In late 1739 – early 1740 the Sèvres Porcelain Factory opened in the Royal Château of Vincennes, Sixteen years later in 1756 the factory moved to the village of Sèvres located outside of Paris and in route to Louis XV's Palace of Versailles where it became the preeminent porcelain manufacturer in Europe. When the company ran into financial difficulties, the King who had become an avid client bought out the shareholders and became the sole owner. The factory remained in the royal family until it was nationalized following the French Revolution.
The range of objects produced in the first half of the 19th century was enormous, as were the types of decoration that they employed. The Sèvres factory produced ninety-two new designs for vases. The factory is still in production today.
Details:
Height – 39 inches / 99cm
Width – 16 inches / 41cm
Depth – 13 inches / 33cm