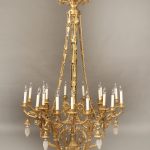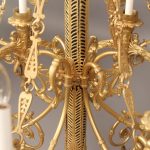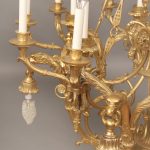 A Large and Important Early 20th Century Gilt Bronze Twenty Four Light Empire Style Chandelier
$75,000
The wonderful casted all bronze frame decorated with empire designs, with bronze chains from the crown to the body, the arms consisting of torches and eagle heads. Twenty four tiered perimeter lights.
Stamped Mottheau Paris on the base.
Maison Mottheau & Fils:
The bronzier Maison Mottheau & Fils is perhaps best known for their 'torche?re lumineuse' exhibited at the 1900 Paris Exposition Universelle; an ambitious and monumental tour de force executed in gilt bronze and onyx from a design by Euge?ne-Fre?de?ric Piat. Specializing primarily in lighting fixtures, the firm took full advantage of the advent of electricity, incorporating it with their decorative designs, combining function with elaborate decoration. Commenting on the introduction of electricity, the Art Journal wrote of Mottheau's display at the Paris 1900 Exposition Universelle.
The French section shows many examples of fine work applied under the new conditions, but we doubt if a more complete success is to be recorded to the credit of any exhibitor than can be conceded to Messieurs Mottheau et fils.
Details:
Height – 63 inches / 160cm
Diameter – 39 inches / 99cm
Lights – 24
Maker – Maison Mottheau