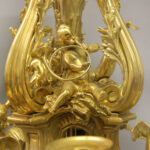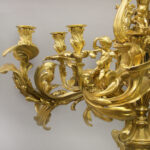 A Magnificent and Palatial Late 19th/Early 20th Century Gilt Bronze Fifteen Light Chandelier
$135,000
After the Famous 18th Century Model by Jacques Caffiéri
This wonderful chandelier is centered by a baluster shaped open central stem, surmounted by scrolling foliage, above three putti, one holding a bird, one with a bow and arrow and the third blowing a horn. Below are three further putti, each holding a turret, two holding a flower wreath, and flanked on all sides by scrolling foliage, above nine foliate branches, each with a conforming nozzle. The pierced base of the chandelier houses three doves. Fifteen tiered perimeter lights.
This chandelier is based on a model made by Jacques Caffiéri between 1750 and 1755. The original was hanging at the Château d'Anet, a French Royal Residence, until it was transferred to the Biblotèque Mazarine, where it remains today.
Jacques Caffiéri
Jacques Caffiéri (1678-1755) a sculptor famous for his works in bronze, was the son of Philippe Caffiéri (1634-1716), who emigrated from Naples to Paris at the request of Cardinal Mazarin to decorate the interiors at Versailles. He was elected to the Academe de Sainte-Luc as a sculptor, and thus created many of the original designs that were proprietary models of his foundry.
Jacques was received as a maître fondeur-ciseleur by 1715, the date of his first known work, a design for a pall for the Corporation des Fondeurs-Ciseleurs, one of the two Parisian guilds that oversaw works cast in metal
Caffieri was appointed fondeur-ciseleur des Bâtiments du Roi in 1736. Following this a large proportion of his best work as a designer and chaser in bronze was executed for commissions to the crown at Versailles, Fontainebleau, Marly, Compiègne, Choisy and the Château de La Muette. In fact he executed so much work for the crown that they were forever in his debt, still owing him money at his death
In addition to these royal commissions from his workshop in rue des Canettes came an amazing amount of work, chiefly in the shape of gilt-bronze furniture mounts used by the best ébénistes of Paris, with whom he worked closely. Little of his production was ordinary and an astonishingly large proportion of it is now famous. Caffieri also known for his production of gilt-bronze cases for clocks.
In 1740, Caffieri's wife purchased a royal privilege, which allowed the Caffieri workshop to gild bronze as well as cast it within the same workshop; ordinarily the processes were divided between two Parisian corporations, jealous of their jurisdictions, the fondeurs-ciseleurs and the ciseleurs-doreurs. This privilege further set Caffieri apart from his rivals.
Details:
Height – 52 inches / 132cm
Diameter – 42 inches / 107cm
Lights – 15