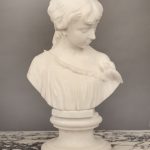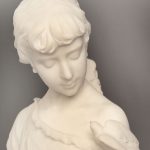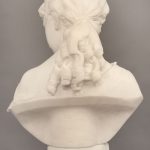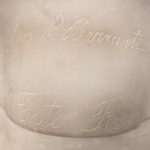 A Nice Late 19th Century Italian White Carrara Marble Bust of a Woman and a Dove by Pietro Bazzanti
$9,500
The young lady and bird glaring at each other.
Signed Galleria P. Bazzanti, P. Gesti Firenze on the back.
Pietro Bazzanti was a central figure in the production of Florentine sculpture at the end of the 19th century. His studio, which would become known as the Galleria Bazzanti, was established in 1822 and remains open today. Specialising in sculpture after the antique, as well as original allegorical and genre pieces, Bazzanti's studio attracted accomplished sculptors such as Cesare Lapini, Ferdinando Vichi and Guglielmo Pugi, all of whom executed works bearing the inscription: Galleria Bazzanti. Its signature indicates, however, that the present group is an autograph work by Pietro Bazzanti himself and is likely to date from the 1870s. During this decade Bazzanti participated successfully in international exhibitions, including in London in 1874, and in Philadelphia in 1876.
Details
Height – 24 inches / 61cm
Width – 13 inches / 33cm
Depth – 10 inches / 25cm