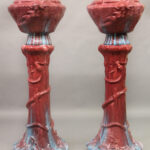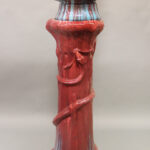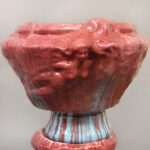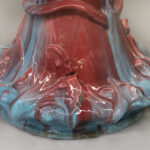 A Nice Pair of Late 19th/Early 20th Century Large Continental Red and Turquoise Glazed Jardinieres and Stands
This interesting pair depicts the famous scene of "Eve and the Serpent". Each jardiniere with a resting and unaware Eve as the snake slowly slithers and wraps its way up the tree (pedestal). Standing at a total height of 57 Inches.
The Old Testament tells of Adam and Eve, our progenitors. They lived in paradise in total innocence until the serpent (the devil) enticed them to eat the forbidden fruit from the tree of knowledge. As punishment for their disobedience, God banished them from Paradise.
Jardiniere
Height – 15 inches / 38cm
Diameter – 22 inches / 56cm
Pedestals
Height – 42 inches / 1017cm
Diameter (base) – 20 inches / 51cm