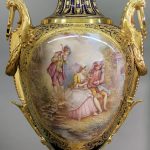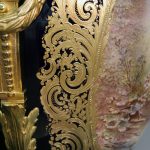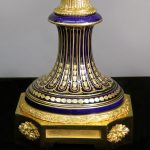 A Palatial Pair of Late 19th Century Gilt Bronze Mounted Sèvres Style Cobalt Blue Porcelain Vases and Covers
$115,000
Each of baluster form with domed cover with pine cone finial, above a waisted neck and bulbous body finely painted with Watteau-esque scènes within a raised gilt-scrollwork cartouche, the reverse with outdoor scenes of a flowing river and foliage, the sides with acanthus and loop handles, on a circular spreading socle and square canted base.
Signed by the artist Collinet.
In late 1739 – early 1740 the Sèvres Porcelain Factory opened in the Royal Château of Vincennes, Sixteen years later in 1756 the factory moved to the village of Sèvres located outside of Paris and in route to Louis XV's Palace of Versailles where it became the preeminent porcelain manufacturer in Europe. When the company ran into financial difficulties, the King who had become an avid client bought out the shareholders and became the sole owner. The factory remained in the royal family until it was nationalized following the French Revolution.
The range of objects produced in the first half of the nineteenth century was enormous, as were the types of decoration that they employed. The Sèvres factory produced ninety-two new designs for vases. The factory is still in production today.
Details:
Height – 42.5 inches / 108cm
Width – 17 inches / 43cm