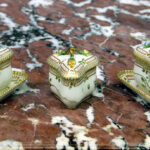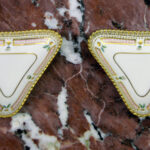 A Set of Three 20th Century Royal Copenhagen Flora Danica Triangular Custard Cups
$4,500
Finely decorated with gold accent designs, reticulated rim and "A Flower From Denmark." Stamped with Royal Copenhagen Denmark seal on the back. Three cups with two saucers.
During the golden age of porcelain production in Europe, the elite began to take an interest in the study of botany and nature, both for its beauty and its benefits to humanity. The extensive Flora Danica botanical Encyclopedia was commissioned by King Frederik V in 1761. It consisted of thousands of engraved copper plates with hand-colored illustrations, accurately representing Danish wild flowers and plants in size and details. It was not completed until 1874, showing its immense scale.
It is not known who in 1790 decided to decorate a large, expensive banquet service with illustrations from Flora Danica. Today, the Flora Danica service is painted as it was over 200 years ago, in free hand based on the original panels. On the fine porcelain, as in the original Flora Danica panels, there is no distinction between roses and thistles; all plants are treated the same. It was the same botanical artist, Johann Christoph Bayer who had previously worked on the Flora Danica books who painted most of the first major Flora Danica dinner service for Royal Copenhagen. In the poor lighting of the time, this work eventually cost him his sight. Deservedly, he was awarded a full pension.
The discovery and excavation of Herculaneum and Pompeii in the 1700s lead to the widespread use of classical motifs in decoration and inspired Flora Danica's design. The gilded edges show its Roman influence and put a historical framework around the detailed botanical art. A national treasure for the Kingdom and everyone else precious and luxurious, Flora Danica has been given and received by wealthy, aristocratic and royal families around the world, including the Danish Royal family where the service still graces the table on state occasions.
Details:
Height – 3.5 inches / 9cm
Width – 4.5 inches / 11cm
Depth – 4.5 inches / 11cm