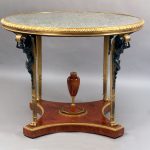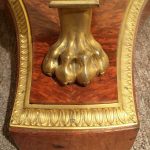 A Very Fine Late 19th / Early 20th Century Louis XVI Style Gilt and Patinated Bronze Mounted Amboyna Center Table By Zwiener Jansen Successeur
$95,000
By Zwiener Jansen Successeur
The circular Patricia green marble top inset within a palmette-cast ormolu surround, supported by four scrolled lion paw monopodiae headed by winged sirens, on a concave-sided plinth centered by an ovoid vase.
The bronze mounts stamped to the reverse ''ZJ' for Zwiener / Jansen Successeur.
The original model for this table is attributed to Weisweiler and Thomire and was delivered by Rocheux to the Palace of Fontainebleau in 1810. The design was subsequently copied at the turn of the century by cabinetmakers such as Zwiener and François Linke.
Zwiener Jansen Successeur was part of the celebrated firm of Maison Jansen. Founded in Paris in 1880 by Jean-Henri Jansen, the firm became the first truly global interior design house and continued trading until 1989. Around 1900 Jansen bought some of the master models of the celebrated furniture maker Joseph-Emmanuel Zwiener and continued his production as Zwiener Jansen Successeur.
Details:
Height – 31 inches / 79cm
Diameter – 40 inches / 102cm
Maker – Zwiener Jansen Successeur