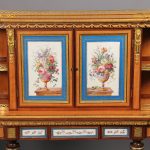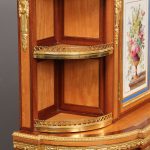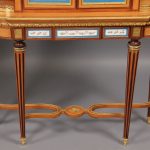 A Very Fine Pair of Late 19th Century Gilt Bronze and Sèvres Style Porcelain Mounted Kingwood Cabinets
$92,500
The upper section with a pair of doors with Sèvres style porcelain plaques painted with a flower filled urn, the lower section with a frieze drawer with floral decorated plaques, raised by four legs joined by a "X" stretcher.
Stamped on the wood Gillows of Lancaster and London.
Robert Gillow established his company around 1730. It was widely considered one of the most important British cabinet making firms. Trading first from Lancaster and, then after 1769, from Oxford Street, London, they were typically employed in conjunction with more expensive cabinet making firms on large domestic furnishing commissions, such as Denton Hall, Otley where they worked alongside Thomas Chippendale during the late 1770's.
In the nineteenth century Gillow continued to be an important company and were involved in several celebrated projects, notable the furnishing of the Palace of Westminster during 1850's and 1860's.
Details:
Height – 49 inches / 124cm
Width – 42 inches / 107cm
Depth – 12 inches / 30cm
Maker – Gillows of Lancaster and London