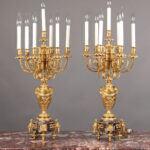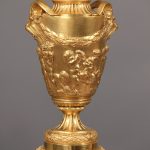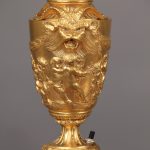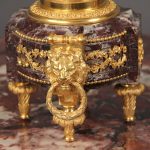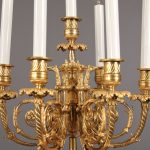 A Very Fine Pair of Late 19th Century Gilt Bronze Seven Light Candelabra
$17,500
After Claude-Michel Clodion
Each as a vase cast in high relief with a procession of putti, with a pair of grotesque mask handles supporting laurel festoons,with six scrolled arms surrounding a center arm, on a circular plum colored marble base with a pair of lion-mask ring handles, on acanthus-cast toupie feet.
Claude Michael Clodion, [1738-1814], was the son-in-law of sculptor Augustin Pajou; he trained in Paris in the workshops of Lambert Sigisbert Adam, his maternal uncle and Jean-Baptiste Pigalle, the most successful sculptor of the time. After winning the Prix de Rome, he moved to Italy, sharing a studio with Jean-Antoine Houdon and studying antique, Renaissance, and Baroque sculpture.
In 1771 Clodion returned to Paris, where he continued to produce mostly in terracotta. He also worked with his brothers in other media, decorating objects such as candelabra, clocks, and vases. Drawing primarily from pagan antiquity, he created light-hearted terracotta sculptures that epitomized the Rococo style. Late in his life, when Neo-classical works were more popular, Clodion adjusted his style and worked on major public monuments in Paris.
Details:
Height – 28 inches / 71cm
Width – 15 inches / 38cm
Lights – 7