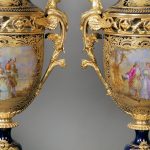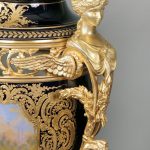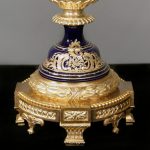 A Very Impressive Late 19th Century Gilt Bronze Mounted Cobalt Blue Sèvres Style Porcelain Three Piece Garniture
$85,000
The impressive centerpiece has a pierced gilt bronze foliate border above a deep blue porcelain body. Finely painted with a scene of a couple at a gaming table, in the manner of Watteau's fete galante, surrounded by beautiful raised gilt designs. It is framed by winged female figural gilt bronze handles and put down on an inverted baluster shaped stem with gilt foliate decoration and a spreading base.
The accompanying vases are similarly decorated with finely tooled gilt reserves on a deep blue ground; the reserves are painted with courting couples inspired by the fete galante to the front and landscape scenes to the reverse. The vases are surmounted by spreading dome shaped covers, with fine gilt tooling of musical trophies, and surmounted by acorn finials. The vases are flanked by female figural handles and raised on conforming bases.
The painted panels signed 'Le Berre'.
Centerpiece
Height – 21 inches / 53cm
Width – 23 inches / 58cm
Depth – 11.5 inches / 29cm
Vases
Height – 29 inches / 74cm
Width – 13 inches / 33cm
Depth – 9 inches / 23cm