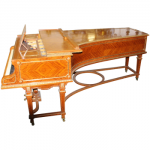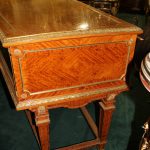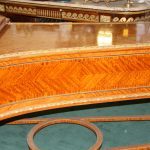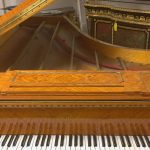 A Wonderful Turn of the Century Gilt Bronze Mounted Louis XVI Style Six Leg Grand Erard Piano
Beautiful satinwood veneer, bronze mounts, standing on six legs centered by a stretcher.
The movement stamped with Erard serial number 93712 and patent stamps, the interior of the case further stamped F. TURBEC/A LEMOINE, and M. BECKER.
Erard is the oldest and most prestigious French piano manufacturer. The firm was founded by Sebastian Erard who built his first piano in 1777 in Paris. Erard's fame spread and royal commissions followed for Louis XVI and Marie Antoinette. This, however, was not a plus for Erard during the French Revolution. He was obliged to leave the country and he relocated to London where he set up operations in 1792. He later returned to Paris and began production there as well, only to suffer restrictions due to the Napoleonic Wars.
Pierre Erard, Sebastian's nephew, took charge of the business in 1834. Instruments were manufactured in London until 1890 while production continues in France today. Erard merged with Gaveau in 1959. Throughout its long history, Erard has been acclaimed for pianos of the highest quality. Erard pianos were favore
Details
Height: 39 inches / 99cm
Width: 57 inches / 145cm
Depth: 100 inches / 254cm
Maker: Erard