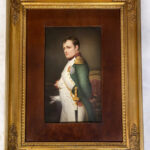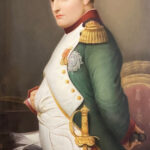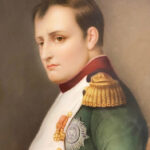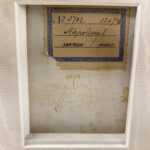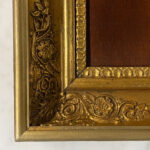 An Excellent Late 19th Century Berlin K.P.M. Porcelain Rectangular Portrait Plaque of Napoleon Signed Wagner
$20,000
Signed Wagner
Finely painted after Paul Hippolyte Delaroche with a portrait of Napoleon in his study.
The back with original ticket and Impressed K.P.M and scepter marks, numbered 336-200, within a mahogany and giltwood frame.
Paul Delaroche, in full Hippolyte-Paul Delaroche, (born July 17, 1797, Paris—died Nov. 4, 1859, Paris), painter whose painstakingly realistic historical subjects made him one of the most successful academic artists of mid-19th-century France. Delaroche's father was an art expert, his uncle was curator of the Cabinet des Estampes, and his brother was the painter Jules-Hippolyte Delaroche. In 1832 he became a professor at the École Nationale Supérieure des Beaux-Arts and was made a member of the institute.
Delaroche's pictures were painted with a firm, solid, smooth surface, which gave an appearance of the highest finish. Often in developing his compositions he first made wax models of them. He held a course midway between the Classicists and the Romantics. His long series of historical pictures had a great popular success, and the availability of engraved reproductions made his work familiar in thousands of homes. One of the most popular of his scenes was the "Children of Edward" (1830; Louvre, Paris), a depiction of the imprisonment of Edward IV's sons in the Tower of London.
KPM is an acronym for Königliche Porzellan-Manufaktur Berlin, which translates to "Royal Porcelain Factory in Berlin." The company was founded in 1763 by Frederick II of Prussia, who bought the factory from its previous owner, Johann Ernst Gotzkowsky, in the wake of its bankruptcy. Frederick II greatly admired the factory's "white gold," a type of porcelain so fine and translucent that it closely mirrored the high-quality porcelain made in China. He invested large sums of money into the company and granted it the use of the royal scepter as its emblem. He also commissioned many KPM porcelain objects to be made in the Rococo style for his palace.
Plaque:
Height – 13.5 inches / 34cm
Width – 8 inches / 20cm
Frame:
Height – 23 inches / 58cm
Width – 17.5 inches / 44cm