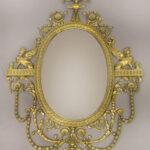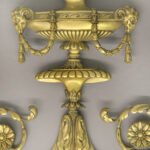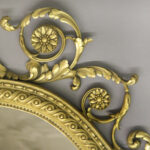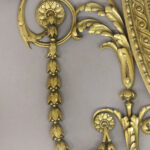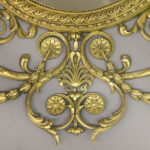 An Excellent Quality Early 20th Century Gilt Bronze Mirror By Caldwell
$37,500
Edward F. Caldwell and Co. Inc. New York
The oval mirror within a guilloche and beaded frame, surmounted by an urn with rams heads draped with husk-festoons and above scrolling acanthus, the sides with large seated sphinxes seated on guilloche-panelled plinths, above further scrolling acanthus.
J. F. Sandberg, Edward F. Caldwell and Company, The Magazines Antiques, February 1998, p. 331.
The E. F. Caldwell & Co. Collection, Smithsonian Institution, a002155.
The present model corresponds to a design for a pier glass mirror in the parlor room at Kenwood house, London, which was designed by Robert and James Adam. See: Works in Architecture of Robert and James Adam, 1774, vol.1, no. II, pl. VIII. Interestingly, Caldwell created a variant to the present lot, incorporating candle branches. Mirrors incorporating candle branches also known as "Girandole."
Edward F. Caldwell & Co. of New York City, was one of the premier designers and manufacturers of electric light fixtures and decorative metalwork from the late 19th to the mid-20th centuries. Founded in 1895 by Edward F. Caldwell (1851–1914) and Victor F. von Lossberg (1853–1942), the firm left a legacy of custom designed and finely-made, metal gates, lanterns, chandeliers, ceiling and wall fixtures, floor and table lamps, and other decorative objects that can be found today in many metropolitan area churches, public buildings, offices, clubs, and residences including, the White House (1902 renovation),St. Patrick's Cathedral, New York, New York Public Library, and Rockefeller Center.
Details:
Height – 46 inches / 117cm
Width – 31 inches / 79cm
Maker – Edward F. Caldwell & Co.