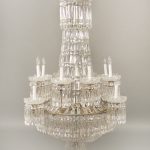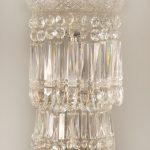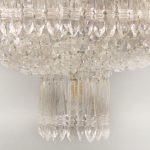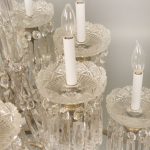 An Exceptional Early 19th Century Gilt Bronze and Waterford Crystal Eighteen Light Chandelier
$135,000
An etched crown above a crystal string body leading to a beaded basket with drop crystals, each of the twelve tiered perimeter lights with top quality cut crystal bobeche cups with more drop crystal. Six interior lights.
The Irish Brothers Penrose Brothers Establish Waterford Glass House in 1783
When the brothers George and William Penrose founded the Waterford Glass House in 1783, they made a bold promise – to make Waterford crystal in "as fine a quality as any in Europe… in the most elegant style." It was no idle boast. They had in hand the old secrets of mingling minerals and glass to create Waterford crystal of beautiful and mysterious qualities. It sang sweetly at the tap of a finger. It felt soft and warm to the touch yet possessed strength and durability known only to Waterford crystal. And it radiated a distinctive, silvery white brilliance, which Waterford Crystal's artists enhanced with deeply – cut ornamentation that gave the finished pieces a vivacious, traditional Waterford crystal sparkle. Patience, skill, and artistry had wrought a triumph at Waterford Crystal.
A splendid array of drinkware, serving accessories, and decorative crystal flowed from the Glass House into the aristocratic home of Europe and America. King George III ordered a set of Waterford Crystal sent to his residence at a fashionable resort, where "it has been much admired" by court society. At two exhibitions, the Royal Dublin Society bestowed medals for superb design on Waterford Crystal's entries. In 1851 a suite of ornamental banqueting crystal was displayed at the London Exhibition to universal acclaim.
Details:
Height – 51 inches / 130cm
Diameter – 39 inches / 99cm
Lights – 18