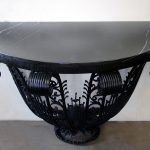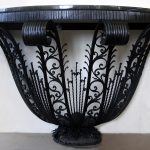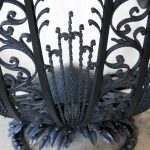 An Exceptional Early 20th Century Cast Iron Marble Top Art Deco Console
$25,000
The demilune shaped black marble top above foliage designed iron legs, standing on a circular base.
In the manner of Edgar Brandt.
Edgar Brandt (1880-1960) was a consummate artist-blacksmith who combined traditional forging methods with emerging technologies of the machine age such as torch welding and power hammers. While aligning art with Industrial methods, Brandt produced objects d'art and embellished buildings and monuments in the Art Deco. Building on the pioneering work of the artist-blacksmith Emile Robert, Brandt became a leading force during a period of great achievement in French decorative arts. He created an entirely new aesthetic for wrought smithing and left behind an impressive number of art historical works.
Details:
Height – 30 inches / 76cm
Width – Top: 44.5 inches / 113cm ; Overall: 50 inches / 127cm
Depth – Top: 25.5 inches / 65cm ; Overall: 27 inches / 69cm