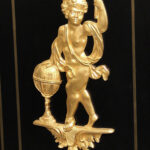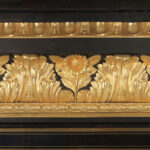 A Fantastic Quality Mid 19th Century Napoleon III Ormolu and Pietre Dura Mounted Ebonized Cabinet by Befort Jeune
Most certainly executed by the French Ébéniste Befort Jeune
The rectangular Belgian black marble top above a sunflower and acanthus frieze, over a large single cupboard door fitted with hardstone plaques decorated and depicting birds among fruit, blossom and insects, centered by a bas-relief bronze roundel depicting playful putti, the interior fitted with a pair of brass-inlaid shelves, the sides each with a putto emblematic of Arts and Science, the angles headed by satyr masks, the concave plinth base centered to the front by a Bacchic mask flanked by scrolling acanthus
The wonderfully executed plaques specifically depicting finches and exotic parrots, in a variety of hard stones including lapis lazuli, amethyst, jasper, malachite, agate, onyx, porphyry, among others.
This type of side cabinet, often called a meuble àhauteur d'appui,is richly mounted with semi-precious hardstones in the Florentine style of the opificio delle pietre dure, an historic technique revived to meet the luxuriant tastes of Napoléon III's Second Empire. Parisian ébénistes at the time, such as Mathieu Befort and Georges Monbro, specialized in producing furniture mounted with pietre dure plaques of a very high caliber, as seen in the present lot, and such work remains much sought after today.
Mathieu Befort (Befort Jeune) (1813-1880) is recorded as having worked in Paris from 1836 until 1880. He was descended from a family of renowned ébénistes and was the son of the renowned cabinetmaker Jean-Baptiste Befort, known as Befort Père, who was of Belgian origin and renowned for having supplied furniture for the apartments of the Duc d'Orléans.
Father and son are noted for their interpretations of furniture by André-Charles Boulle and the creation of vernis matin and porcelain mounted furniture, often in the manner of Riesener. The firm received a medal at the 1844 Exposition de l'Industrie Française, and earnt Befort a reputation for the high quality of his work. As a result he became a purveyor to Napoléon III and Empress Eugénie.
Pietre dure refers to the Florentine mosaic of hard and semi precious stones in a technique practiced at the beginning of the seventeenth century. The background was often made of ebony veneers or black stain so that the rich color of the stones would contrast nicely with a black background.
These panels underline the importance of the painter and designer Jacopo Ligozzi (1547-1626) who influenced Florentine pietre dure workshops as the fashion for images with birds and flowers grew extensively in the first half of the 17th century. Much like Ligozzi achieved through his drawings, the composition of each panel succeeds to emulate nature thanks to the impressive skills of the Florentine craftsmen who were undoubtedly at the time the very best in the trade to achieve these type of images.
Details:
Height – 61.5 inches / 156cm
Width – 45 inches / 114cm
Depth – 16.5 inches / 42cm