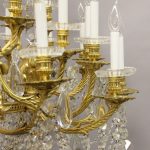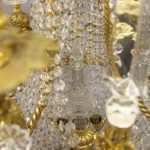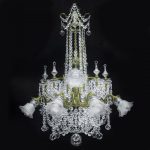 An Exquisite Late 19th Century Gilt Bronze and Crystal Thirty Six Light Chandelier By Baccarat
$125,000
Compagnie des Cristalleries de Baccarat
The circular palm-frond and guilloché corona suspending drop chains and rope-twists supporting a similar corona and a lower tier with four seated putti, each issuing three candlearms scrolling to cut glass circular drip-pans and circular nozzles stamped 'BACCARAT', four exterior spears surrounded by thirty two perimeter lights and four interior lights circling a large spear.
The design for this sophisticated chandelier, is directly related to a chandelier illustrated in Baccarat's 'Tarif des Articles d'Eclairage', from the turn of the century, as Lustre Série E.193. A further variation with bronze arms and glass shades is illustrated as Série E.460.
Baccarat is the world's leading manufacturer of crystalware. Founded in 1764 under the patronage of Louis XV as Renault et Compagnie, the firm became known as the Compagnie des Cristalleries de Baccarat during the nineteenth Century.
The company began to flourish at the beginning of the Nineteenth Century, as the effects of the Napoleonic Wars abated, and its reputation was consolidated by the official approval from various sovereigns and heads of state. At the 1823 Exposition Nationale in Paris, it was Baccarat's crystalware that Louis XVIII was said to have particularly admired, appreciating its 'beautiful workmanship'.
Details:
Height – 52 inches / 132cm
Diameter – 42 inches / 107cm
Lights – 36