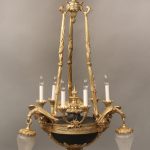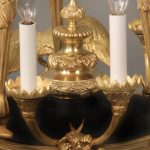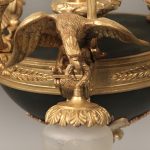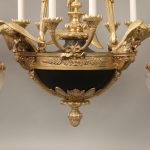 An Interesting Early 20th Century Gilt and Patinated Bronze Nine Light Empire Style Chandelier
$25,000
Three curtain designed ropes run from the top to the body, centered by a large urn, six torch arms with lights and three eagles with spread wings and frosted glass shades surround the patinated dome ending in a large acorn.
Stamped Raingo Fres and numbered 8898 on the top of the chandelier.
Raingo Frères
The clockmaker and bronzier Raingo Frères was founded in 1813 by Zacharie Joseph Raingo. He was born in 1775 in Belgium, lived in Tournai, was active in Ghent and moved to Paris in 1813. In Tournai, he probably made one of his first astronomical clocks with planetarium which was his specialty.
Raingo was named the "Watchmaker-Mécanicien" by the Duke of Orleans and "Watchmaker-Mécanicien du Garde-Meuble de la Couronne" (Supplier of the King of France) in 1824. King George IV of England bought a planetarium-clock of Raingo in 1824.
In 1834, the company received an honorable mention in an exhibition in Paris.  While the four Raingo brothers were first recognized as clockmakers, in 1841 they added bronzes and furnishings to their repertoire. Known for the quality of their ormolu (gold plating), by 1860, Raingo Frères had furnished bronzes, garniture (decorations) and table pieces for the apartments of Emperor Napoleon III and his wife, the Empress Eugenia, examples of which are now in the collection of The Louvre. They later produced small models of works by contemporary artists, such as Pradier, Carrier-Belleuse, and Auguste Moreau. They also collaborated with famous ebeniste François Linké.
In 1862, the company was present at the International Exhibition in London. In the world exhibitions in 1867, 1878 and 1889, the company also won several medals, even a gold medal in 1898. Some of their works are in different museums like Musée des Arts et Métiers in Paris, Museo Poldi Pezzoli in Milan and in Palacio Real de Madrid
Details:
Height – 41 inches / 104cm
Diameter – 25 inches / 64cm
Lights – 9