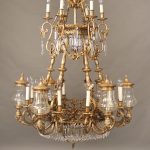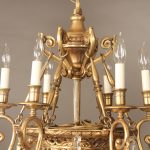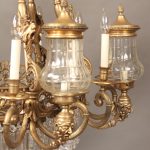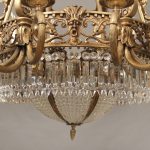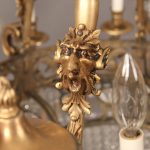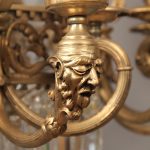 An Interesting Early 20th Century Gilt Bronze and Crystal Twenty Six Light "Grotesque" Chandelier
$37,500
A unique Gothic Style, drop crystal, basket chandelier with different "Grotesque" faces and designs. Twenty four tiered perimeter lights (including 6 lanterns) and two tiered interior lights.
Artists began to give the tiny faces of the figures in grotesque decorations strange caricatured expressions, in a direct continuation of the medieval traditions of the drolleries in the border decorations or initials in illuminated manuscripts. From this the term began to be applied to larger caricatures, such as those of Leonardo da Vinci, and the modern sense began to develop. It is first recorded in English in 1646 from Sir Thomas Browne: "In nature there are no grotesques". By extension backwards in time, the term became also used for the medieval originals, and in modern terminology medieval drolleries, half-human thumbnail vignettes drawn in the margins, and carved figures on buildings (that are not also waterspouts, and so gargoyles) are also called "grotesques".
A boom in the production of works of art in the grotesque genre, characterized the period 1920–1933 of German art. In contemporary illustration art, the "grotesque" figures, in the ordinary conversational sense, commonly appear in the genre grotesque art, also known as fantastic art.
Details:
Height – 50 inches / 127cm
Diameter – 36 inches / 91cm
Lights – 26