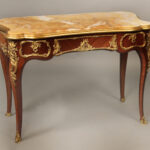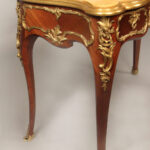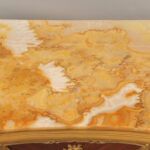 An Interesting Late 19th Century Gilt Bronze Mounted Louis XV Style Onyx Top Side Table By Henry Dasson
$35,000
Henry Dasson
The beautiful shaped onyx top within a bronze rim, above a long centered and two small side drawers, the backside similarly designed, the legs mounted with floral motif and raised on bronze sabots.
Stamped Henry Dasson et Cie 1892 to the underside of the carcass.
This is a copy of the 18th Century table in the Louvre made by Bernard II Vanrisenburgh
Henry Dasson was considered one of the finest makers of gilt bronze mounted furniture in the nineteenth Century. He established a workshop at 106 rue Vieille-du-Temple, Paris, and specialised in the production of Louis XIV, Louis XV and Louis XVI style furniture using the very finest ormolu mounts with the highest quality mercury gilding. In 1871, Dasson purchase Charles-Guillaume Winckelsen business and remaining stock.
Dasson exhibited at the 1878 and 1889 Paris Exhibition. He displayed Louis XV and XVI styles as well as pieces of his own modified eighteenth century design. The exhibits in 1878 included a table entirely in gilt bronze, purchased by Lord Dudley.
Details:
Height – 28 inches / 71cm
Width – 38.5 inches / 98cm
Depth – 21.5 inches / 55cm