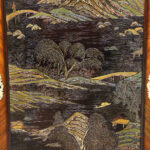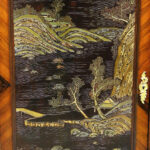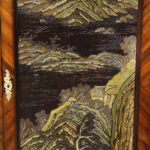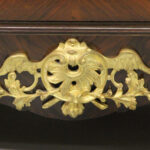 An Interesting Late 19th Century Gilt Bronze Mounted Transitional Style Chinoiserie Cabinet by L. Bontemps
$35,000
L. Bontemps
Marble top above three high doors, each with a coromandel landscape scene with people at leisure, the sides quarter veneered, the base with a nice bronze mount of a set of wings surrounded by acanthus leaves.
Stamped LB under many of the bronze mounts.
Not much is known about the life and career of Bontemps – not even his given name or address are on record. However, it is clear that he was a well established maker; if not the very top rung, he can certainly be considered a maker of muebles de luxe. Judging from the listings of his work, it is clear that he favored the use of oriental lacquer, specifically Chinese, some of which looks as though it is considerably earlier than the last quarter of the 19th century, the presumed date of his career. Many of his pieces include late 17th or early 18th century panels taken from folds of Chinese Coromandel screens with rock and water landscapes.
Details:
Height – 63 inches / 160cm
Width – 69 inches / 175cm
Depth – 17 inches / 43cm