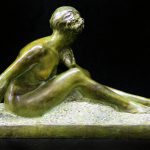 Early 20th Century Bronze Sculpture of a Reclining Woman By Gabriel Georges Chauvin
By Gabriel Georges Chauvin (French, 1895-1965)
Wonderful Art Deco figure of a woman sitting on a bed of flowers.
Signed Chauvin on the front and Susse Fres Paris – Cire Perdue on the side.
The Susse brothers company was founded in Paris in 1758 , originally a stationery trade , and won acclaim in the art foundry . It is today the oldest art foundry in France still operating under the name Susse Fondeur
After their participation in the major exhibitions of the period, notably those of London in 1871 and Vienna in 1873, the Susse brothers published in 1875 a general catalog containing the list of all the works then reproduced by the company, the number of bronzes for sale irrefutably attesting to its vitality and prosperity.
Details:
Height – 12 inches / 30cm
Width – 20.5 inches / 52cm
Depth – 9.5 inches / 24cm
Maker – Gabriel Georges Chauvin