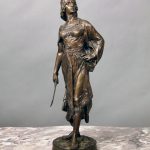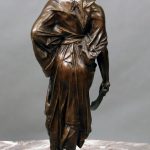 Late 19th Century Bronze Sculpture of a Female Warrior with Sword By Edouard Drouot
$8,500
Signed E Drouot
Edouard Drouot was born in Sommevoire in the Haut Marne region on 3rd April 1859. Early in his career, Drouot was a successful painter, in addition to his sculpture, receiving an honourable mention at the Universal Exposition in Paris in 1900. Drouot studied in Paris under the renowned and successful Emile Thomas 1817-82, a sculptor who received numerous state commissions and produced portraits, monuments, allegorical and mythological works in marble and bronze. Drouot also studied under Mathurin Moreau (1822-1912), one of the renowned family of sculptors in bronze and marble.
Drouot himself was highly successful and widely collected. He produced portrait busts, figurative works and both allegorical and mythological subjects. These are distinguished by a sense of movement, particularly evident in allegorical works such as "Printemps", his Salon exhibit of 1897 or "L'Echo" with its swirling drapery, seen also in his allegory of Dusk.
Drouot exhibited at the Salon from 1889 and continued to exhibit into the twentieth century, works such as "L'Eveil du Printemps" of 1906 and "Andromache" of 1912. Drouot worked in bronze, producing animalier works, North African subjects and Indians on horseback, but it is for his classical, beautifully formed, allegorical figures that he established and maintained his internationally renowned reputation.
Drouot died in Paris in 1945.
Details:
Height – 25 inches / 64cm
Width – 9 inches / 23cm
Depth – 8 inches / 20cm
Maker – Edouard Drouot