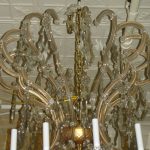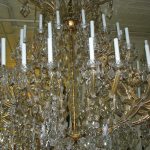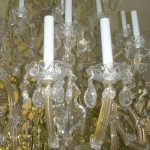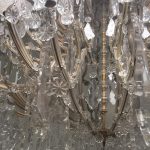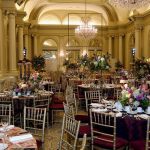 Spectacular Late 19th-Early 20th Century 64 Light Maria Theresa Chandelier
$85,000
Formally hung in the Academy of Music in Philadelphia.
Bronze frame completely enclosed in hand blown glass, multi-faceted and shaped crystal, glass arms, cut crystal central column, sixty four tiered perimeter lights each with bobeche cups.
The Academy of Music opened its doors in 1857, first for an inaugural ball on January 26th, and then, on February 25th, entrancing a glittering crowd with Verdi's Il trovatore. Modeled on Milan's famed La Scala, it is the oldest opera house in the United States still used for its original purpose…but it's so much more!
Il trovatore set the stage for the Academy's glorious role in opera. It has hosted the American premieres of Strauss's Ariadne auf Naxos, Gounod's Faust, and Wagner's The Flying Dutchman. Today, it's home to Opera Philadelphia, the highly praised company offering everything from repertoire classics to 21st century originals.
The Academy is also sacred ground for orchestral music. It was the home of the storied Philadelphia Orchestra from 1900 to 2001, during which time the Orchestra established itself as one of the world's greatest, with a vast number of premieres and innovations and, of course, the legendary Philadelphia Sound. The Orchestra returns here each year for the annual Anniversary Concert and Ball.
The Academy of Music, also known as American Academy of Music, is a concert hall and opera house located at 240 S. Broad Street in Philadelphia, Pennsylvania. Its location is between Locust and Manning Streets in the Avenue of the Arts area of Center City.
The hall was built in 1855–57 and is the oldest opera house in the United States that is still used for its original purpose. Known as the "Grand Old Lady of Locust Street," the venue is the home of the Pennsylvania Ballet and Opera Philadelphia. It was also home to the Philadelphia Orchestra from its inception in 1900 until 2001, when the orchestra moved to the new Kimmel Center for the Performing Arts. The Philadelphia Orchestra still retains ownership of the Academy.
The hall was designated a National Historic Landmark in 1962.
Details:
Height – 80 inches / 203cm
Diameter – 72 inches / 183cm
Lights – 64