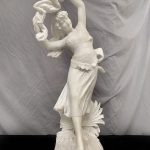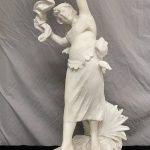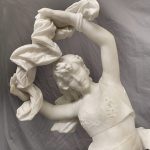 Wonderful Early 20th Century Italian Carrara Marble Figure of an Exotic Dancer by Ferdinando Vichi
$12,500
The young  girl wearing a jeweled bikini, her hair flowing around her shoulders in loose curls, dancing with a veil, her diaphanous skirt with ribbons flowing around her, palm leaves at her feet.
Inscribed F. Vichi on the base
Ferdinando Vichi was a well-known and respected sculptor in Florence in the last part of the 19th and the first half of the 20th century. An alabaster workshop was associated with his name in the late 19th century, and he was connected with artists such as Cesare Lapini and Guglielmo Pugi, established sculptors of the Galleria Bazzanti workshops. Although Vichi also worked on subjects after the Antique and Renaissance-inspired models, it was Romantic sculpture he truly excelled at. As his reputation grew, he received not only local commissions, such as a memorial for the fallen of World War I in his native Florence, but also for a more international clientele, who seemed to prefer his Romantic style.
Details
Height – 25 inches / 64cm
Width – 10 inches / 25cm
Depth – 9.5 inches / 24cm