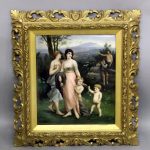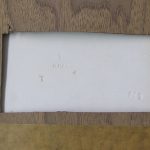 Wonderful Late 19th-Early 20th Berlin K.P.M. Porcelain Rectangular Plaque
$35,000
Painted landscape scene with two women and their children playing, the background with two men, one playing an instrument.
Impressed K.P.M and scepter marks, in the original frame.
KPM is an acronym for Königliche Porzellan-Manufaktur Berlin, which translates to "Royal Porcelain Factory in Berlin." The company was founded in 1763 by Frederick II of Prussia, who bought the factory from its previous owner, Johann Ernst Gotzkowsky, in the wake of its bankruptcy. Frederick II greatly admired the factory's "white gold," a type of porcelain so fine and translucent that it closely mirrored the high-quality porcelain made in China. He invested large sums of money into the company and granted it the use of the royal scepter as its emblem. He also commissioned many KPM porcelain objects to be made in the Rococo style for his palace.
Plaque:
Height 17.5 inches / 44cm
Width 15 inches / 38cm
Frame:
Height 22.5 inches / 57cm
Width 20.5 inches / 52cm.