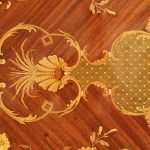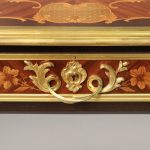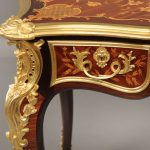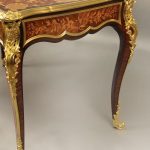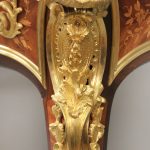 A Fantastic Late 19th Century Louis XV Style Gilt Bronze Mounted Inlaid Marquetry Table By Paul Sormani
$75,000
Paul Sormani
A wonderful inlaid floral marquetry top with a bronze boarder above three inlaid drawers. The sides and back with additional floral marquetry, bronze mounts on each leg.
The lockplate engraved "Vve P. Sormani & Fils 10 R. Charlot Paris".
Paul Sormani (1817-1877), was born in Venice in 1817, and was a maker of fine 'meubles de luxe'. His work was described in the catalogue of the 1867 Exposition Universelle as: 'toute sa production révèle une qualité d'exécution de tout premier ordre'.
Sormani exhibited in Paris in 1849, 1855, 1862, 1867, 1878 and 1900, and in London in 1862, winning numerous medals. Amongst the items Sormani exhibited at the 1900 Exposition Universelle were a Louis XV style bureau and a Louis XVI style commode both based on originals held in the Jones Collection at the South Kensington Museum.
Details:
Height – 30 inches / 76cm
Width – 51 inches / 130cm
Depth – 30 inches / 76cm
Maker – Paul Sormani