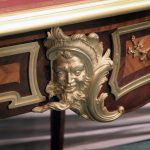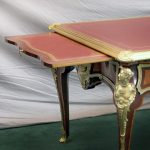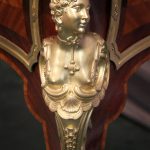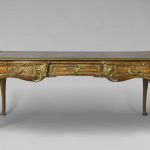 A Fantastic Late 19th Century Louis XV Style Gilt Bronze Mounted Inlaid Parquetry Bureau Plat
$95,000
The rectangular top with gilt-tooled leather writing-surface within a molded border and with shell-cast mounts to the corners, above a quarter-veneered serpentine frieze with a leather-lined slide to the left side, three drawers to the front and three simulated drawers to the reverse, the central drawer flanked by foliate and rocaille-cast bearded mask crescent mounts, the outer drawers with acanthus scroll handles, the sides centered by bearded young men with feathered caps, the cabriole legs headed with female busts, with C-scroll and rocaille cast lion's-paw feet.
After the famous 18th century model by Charles Cressent.
One of Cressent's first models of this desk is now in possession and on display at the Musée du Louvre. (Photo (C) RMN-Grand Palais / Jean-Gilles Berizzi).
Charles Cressent (1685-1768) was arguably the most important ébéniste working in Paris in the first half of the 18th century, and his work parallels the transition from the larger and more classical forms of the late Louis XIV era to the lighter and more sinuous lines of the Régence and early rococo period. Born the son of a woodcarver and grandson of a cabinetmaker in Amiens, Cressent trained as a sculptor and was received into the Academy of Saint Luke in 1714. He was known for contravening guild regulations by designing and casting his own bronzes, which formed an integral element of his furniture designs. He initially worked in the workshop of Joseph Poitou (c.1680-1719), the official ébéniste to the Régent, the Duc d'Orléans, and after Poitou's death in 1719 Cressent married his widow and took over the atelier, instantly obtaining access to an elite clientele.
Details:
Height – 33 inches / 84cm
Width – 82 inches / 208cm
Depth – 38 inches / 97cm