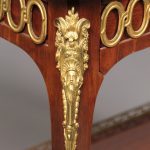 A Fine Mid 19th Century Louis XV Style Gilt Bronze Mounted Marquetry Desk By Guillaume-Edmond Lexcellent
$20,000
By Guillaume-Edmond Lexcellent
The upper structure consisting of two doors and a small drawer above a single long drawer, gilt bronze faces on each of the legs, the wonderful inlaid floral marquetry in the manner of Topino.
The lockplate signed Lexellent, Fabt Paris
Guillaume-Edmond LEXCELLENT
E. Guillaume-Edmond Lexcellent was born in Paris in 1834. He was a maker and retailer of the highest quality furniture in many different styles, drawing inspiration from the work of Riesener and Weisweiler as well as creating many original designs. His shop was situated in Paris at 46 rue de Charenton in 1867, and from 1868 at rue Bréguet. He exhibited successfully at a number of exhibitions.
Details:
Height – 41 inches / 104cm
Width – 33.5 inches / 85cm
Depth – 19 inches / 48cm
Maker – Lexellent