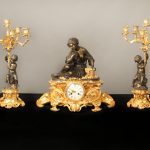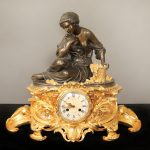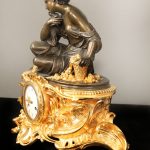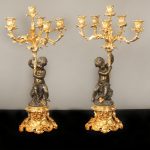 A Fine Mid 19th Century Gilt and Patinated Bronze Three Piece Clock Set By Victor Pierret
$22,000
By Victor Pierret
The figural clock of a woman and a bird seated next to a basket of roses above a gilded base designed with flowers. The candelabra with cherubs holding six lights and sitting on a gilt sea shell base.
The clock dial inscribed Pierret a Paris.
Victor-Athanase Pierret was born in 1806 at Bucy les Pierrepont. At the age of 13, he started apprenticeship with Rolin the clockmaker in Bucy les Pierrepont where he stayed five years. At the age of 24, he established himself in Paris, 21 rue des Bons Enfants. He designed and crafted calendar clocks, watch calibers, temperature compensated balances for chronometers, nightlight clocks… He exhibited in the Great Exhibition in London in 1851. He died in 1893.
Clock
Height – 18 inches / 46cm
Width – 20 inches / 51cm
Depth – 10 inches / 25cm
Maker – Victor Pierret
Candelabra
Height – 21.5 inches / 55cm
Diameter – 14 inches / 36cm
Lights – 6