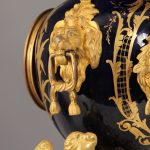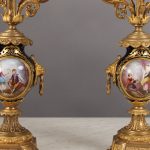 Late 19th Century Gilt Bronze Mounted Three Piece Cobalt Blue Sèvres Style Clock Set
$19,500
Comprising of a round clock with a final with two birds; a pair of five-light candleabra with scrolled branches issuing from round shaped vases painted with a couple, the reverse a landscape, flanked by a lion's mask.
In late 1739- early 1740 the Sèvres Porcelain Factory opened in the Royal Château of Vincennes, Sixteen years later in 1756 the factory moved to the village of Sèvres located outside of Paris and in route to Louis XV's Palace of Versailles where it became the preeminent porcelain manufacturer in Europe. When the company ran into financial difficulties, the King who had become an avid client bought out the shareholders and became the sole owner. The factory remained in the royal family until it was nationalized following the French Revolution.
The range of objects produced in the first half of the nineteenth century was enormous, as were the types of decoration that they employed. The Sèvres factory produced  ninety-two new designs for vases. The factory is still in production today.
Clock
Height – 21 inches / 53cm
Width – 15 inches / 38cm
Depth – 7 inches / 18cm
Candelabra
Height – 22 inches / 56cm
Width – 7 inches / 18cm
Lights – 5