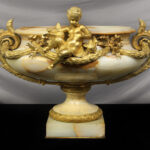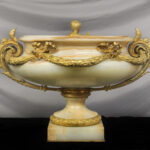 A Large and Excellent Late 19th Century Gilt Bronze Mounted Algerian Onyx Jardiniere
$37,500
Possibly by Eugene Cornu and G. Viot et Cie.
In ovoid form centered with a large putto surrounded by love doves, with pair of scrolling acanthus and bellflower cast handles, connected by ribbons and swags along the front and back.
The sculptor and bronzier Eugène Cornu (d.1875) was an innovative Parisian artist who experimented with new media, particularly marble and onyx mined from the new French colony of Algeria. He was director of a bronze foundry and several other enterprises in Paris, notably his collaboration with the bronzier G. Viot at their shared concern the Compagnie des Marbres Onyx d'Algérie at 24, boulevard des Italiens. He exhibited with great success at both the London 1862 International Exhibition and the Paris 1867 Exposition Universelle, where he was awarded a médaille d'or.
Details
Height – 18.5 inches / 47cm
Width – 27 inches / 69cm
Depth – 19 inches / 48cm