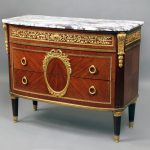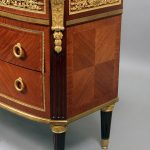 A Very Nice Late 19th Century Louis XVI Style Gilt Bronze Mounted Commode
$37,500
Signed Haentges Fres
A marble top, above a bronze frieze, with one long drawer, and two deep long drawers.
Signature found on the wood near the lock on the upper drawer.
After the 18th century model by Jean-François Leleu.
Haentges Frères were a celebrated firm of bronziers and cabinet-makers working in Paris in the last quarter of the nineteenth and the beginning of the twentieth centuries. Their syle was primarily influenced by Louis XV and Louis XVI designs although they later developed a more reductive Art Deco approach during the first few decades of the twentieth century. Denise Ledoux-Lebard lists Haentges Frères as being located at 9, Immeubles Industriels from 1883 and later at 6, rue Titon.
Jean-François Leleu was one of the favoured assistants in the workshop of the great ébéniste Jean-François Oeben (1721-1763). After the early death of his master, he hoped to be entrusted with the running of the workshop, but was superseded by Jean-Henri Riesener (1734-1806), another of Oeben's assistants. Riesener married Oeben's widow and went on to become the court ébéniste of King Louis XVI and Queen Marie-Antoinette. Leleu left the workshop, became maître-ébéniste in 1764 and set up on his own. He attracted a grand and fastidious clientele, notably the Duc d'Uzés, Baron d'Ivry, and Ange-Laurent Lalive de Jully.
Details:
Height – 34.5 inches / 88cm
Width – 42.5 inches / 108cm
Depth – 19 inches / 48cm