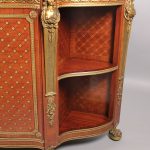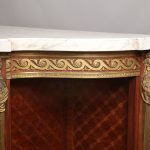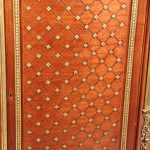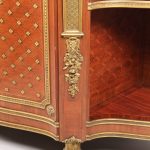 A Rare and Impressive Mid 19th Century Transitional Style Gilt Bronze Mounted Cabinet By Charles-Guillaume Winckelsen
$125,000
By Charles-Guillaume Winckelsen (1812-1871)
The demilune white marble top above a central frieze drawer centered ,over a pair of bronze mounted parquetry cupboard doors, flanked by open sides with matching parquetry design and with one shelf, the angles with scantily-clad female terms.
Stamped "Winckelsen 21 Rue St. Louis"  to the front, top center of the carcass under the marble top.
Winckelsen made high quality furniture in the style of the Eighteenth Century during the Nineteenth Century. He was established at 23, Val-Sainte-Catherine, Paris from 1854 until his death in 1871. As a result of his comparatively short career little of his work is available today. All recorded items by this maker are of of the highest quality, especially the bronze work. Jean-Louis-Benjamin Gros was his main furniture maker and Joseph-Nicolas Langlois his chiseller.
Details:
Height – 46 inches / 117cm
Width – 76 inches / 193cm
Depth – 26 inches / 66cm
Maker – Charles-Guillaume Winckelsen