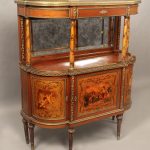 A Lovely Late 19th Century Gilt Bronze Mounted English Cabinet / Server By Hampton & Sons
$19,500
By Hampton & Sons
A bronze gallery above a single drawer and four gilt and painted columns, with a mirrored back over three gilt and figural-painted doors with shelved interiors, fluted legs with bronze mounts.
Stamped Hampton & Sons Pall Mall East on the inside of the drawer.
Established in 1830 in Cranbourn Street, Leicester Square by William Hampton, later being joined by his sons, George and William, the company moved to 8 Pall Mall East, adjacent to Trafalgar Square, in very large premises, trading as builders and surveyors, estate agents, 'antique and modern furniture dealers', general furnishers, upholsterers, plumbers and electricians. Their commissions included, inter alia, the furnishing of the Royal Yacht Britannia, the liners Queen Mary and Queen Elizabeth, the Theatre Royal in Drury lane, and the palaces of the Nizam of Hyderabad and the Maharajah of Kashmir. An incendiary bomb destroyed the building in 1940, after which they moved to Kensington High Street, where they traded until 1960.
Details:
Height – 43 inches / 109cm
Width – 37 inches / 94cm
Depth – 15 inches / 38cm
Maker – Hampton & Sons