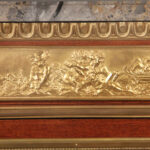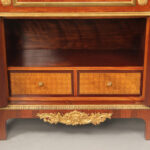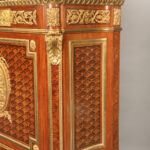 A Special Late 19th Century Gilt Bronze Mounted Inlaid Parquetry Secretaire a Abattant
$38,000
The shaped marble top above a long center frieze drawer with a large central bronze plaque of putti at play, the beautiful parquetry drop-down door centered with an elliptical gilt bronze panel depicting "A Sacrifice to Love", a classically dressed woman presenting an infant to Cupid, who stands on a pedestal, the plaque has ribbon tied flowers, the inside centered with a mirror surrounded by drawers and pigeonholes, the fall-front itself provides a black leather writing surface, the bottom doors opening to two more drawers and a shelf, the sides decorated with similar parquetry designs.
This piece is a copy of the 18th century Secretaire by Jean-Henri Riesener which is presently in the Wallace Collection in London.
Jean-Henri Riesener (1734-1806) born in Westphalia, and arrived in Paris in 1755, gaining employment at the atelier of Jean-François Oeben. After Oeben"s death, he married his widow, Françoise, and took over the workshop, became a "maitre ebeniste" in 1768, and was appointed "Furniture Maker to the King Louis XVI" in 1774.
His masterful interpretation of the French Neo-Classical manner, married to sublime workmanship is represented in museums world wide, including, the Victoria and Albert, The Royal Collection at Buckingham Palace, The Wallace Collection, the Metropolitan Museum of Art, Getty Museum, Philadelphia Museum of Fine Art, Chicago Art Institute, the Frick Collection, Chateaux des Chantilly, Fontainebleau and Compiegne, and the Louvre, inter alia.
The Riesener Secretaire in the Wallace Collection was originally delivered, along with other pieces, in February 1783 for Marie-Antoinette"s private rooms at Versailles, it was confiscated after the Revolution, and re-appeared in Russia in 1865, where it was purchased from Count Koucheleff Bezborodko, by Frederick Davis, and thence resold to the 4th Marquess of Hertford, where it is recorded in his Parisian collection at Rue Laffiite in 1867.
Details:
Height – 59 inches / 150cm
Width – 43 inches / 109cm
Depth – 17 inches / 43cm