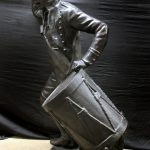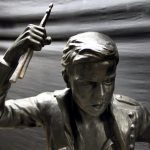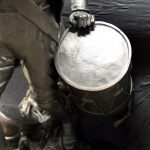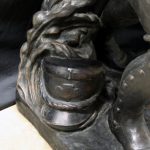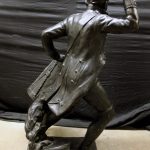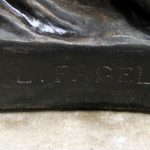 A Unique and Impressive Late 19th Century Life Size Bronze of a Drummer Boy By Léon Fagel and Amleto Cataldi
$35,000
Léon Fagel and Amleto Cataldi
Depicting a life size French soldier boy marching with his drumsticks in one hand up in the air and holding a large drum in the other, his cap lying on the ground.
Signed L. Fagel and A. Cataldi on the base.
Léon Fagel (1851–1913) was born in Valenciennes, France, won the second Prix de Rome in 1875, and the Prix de Rome in 1879. He exhibited busts of Chevreul, J. Cavelier, and Le Greffeur at the Exposition Universelle (1900), along with two large reliefs for Sacré-Cœur (Faith and Fortitude).
Amleto Cataldi (1882 – 1930) was one of the most celebrated sculptors of his generation. A rare artist, his marbles seldom come up at auction. Born in Naples, Cataldi trained in Rome, where he rejected the Neapolitan sculptural tradition epitomised by Vincenzo Gemito's compositions in bronze, in favour of a purer classicism, which lent itself better to marble. His later career was occupied with exhibitions and continual commissions for monuments and portrait busts of Roman nobility. Today his legacy is principally left in Rome in sculptures such as Woman with amphora in the Pincio Garden, Victory on the Victor Emanuel Bridge, the memorial to the Guardia della Finanza who died in World War I in Viale XXI Aprile, as well his Portatrice d'Acqua in the Galleria nazionale d'arte moderna.
Details:
Height – 64 inches / 163cm
Width – 30 inches / 76cm
Depth – 38 inches / 97cm