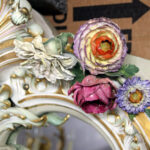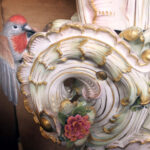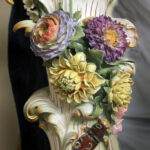 A Unique and Monumental Late 19th Century German Meissen Porcelain Mirror
This palatial mirror is made up of around 12 wonderful individually hand crafted pieces of porcelain. The top, centered with a large beautiful bird surrounded by flowers, the base with a large plaque of three cherubs, the partially gilt white frame is adorned with fantastic sculptural porcelain encrusted flowers, foliage, canary birds and insects all richly colored in the Meissen tone.
In all of our years in business, we have never seen or owned a Meissen Porcelain mirror of this size and stature. This piece was most definitely commissioned for a very wealthy client or person of royalty.
Details:
Height – 105 inches / 267cm
Width – 58 inches / 147cm