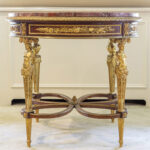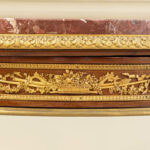 A Very Fine Late 19th Century Louis XVI Style Gilt Bronze Mounted Center Table by Henry Dasson
$95,000
Henry Dasson
The brèche rouge circular marble top above a frieze mounted with allegorical trophies emblematic of the four seasons amid scrolling foliage and fitted with a long spring-release drawer, above two male and two female herm supports and chased with flowers on spirally-fluted tapering feet, joined by a looped 'X'-shaped stretcher centered by a berried finial
Signed and dated Henry Dasson 1878 to one of the bronze legs.
This elegant guéridon, designed in the goût Weisweiler, epitomizes the supreme quality of Dasson's finest work. A comparable example, dated 1867 and formerly in the collection of Pierre Lecoules, is illustrated in D. Ledoux-Lebard, Le mobilier français du XIX siècle, Paris, 1984, p. 148.
Henry Dasson was considered one of the finest makers of gilt bronze mounted furniture in the nineteenth Century. He established a workshop at 106 rue Vieille-du-Temple, Paris, and specialised in the production of Louis XIV, Louis XV and Louis XVI style furniture using the very finest ormolu mounts with the highest quality mercury gilding. In 1871, Dasson purchase Charles-Guillaume Winckelsen business and remaining stock.
Dasson exhibited at the 1878 and 1889 Paris Exhibition. He displayed Louis XV and XVI styles as well as pieces of his own modified eighteenth century design. The exhibits in 1878 included a table entirely in gilt bronze, purchased by Lord Dudley.
Details:
Height – 29 inches / 74cm
Diameter – 31.5 inches / 80cm