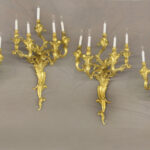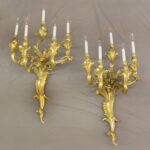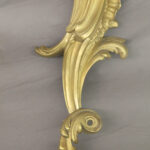 A Very Fine Set of Four Early 20th Century Gilt Bronze Five Light Sconces By Caldwell
$50,000
Edward F. Caldwell and Co. Inc. New York
The beautiful foliate-scolled backplate supporting five tiered, great quality chiseled acanthus candle branches, leading down to a wavy casted base.
The reverse stamped C within a lozenge.
While the model for the present group of wall lights appears in the photographic archives for Edward F. Caldwell & Co., no corresponding design records or draughtsman sketches are extant. However, it was common practice for Caldwell and, later his partner Victor von Lossberg, to travel abroad to acquire decorations of various style and manufacture to subsequently retail in their New York showroom.
Edward F. Caldwell & Co., of New York City, was one of the premier designers and manufacturers of electric light fixtures and decorative metalwork from the late 19th to the mid-20th centuries. Founded in 1895 by Edward F. Caldwell (1851–1914) and Victor F. von Lossberg (1853–1942), the firm left a legacy of custom designed and finely-made, metal gates, lanterns, chandeliers, ceiling and wall fixtures, floor and table lamps, and other decorative objects that can be found today in many metropolitan area churches, public buildings, offices, clubs, and residences including, the White House (1902 renovation), St. Patrick's Cathedral, New York, New York Public Library, and Rockefeller Center.
Details:
Height – 30 inches / 76cm
Width – 20 inches / 51cm
Depth – 12 inches / 30cm