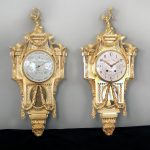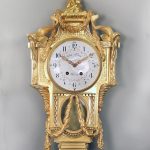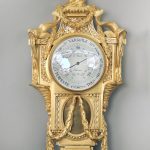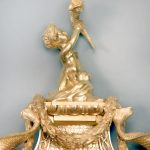 An Exceptional Late 19th Century Gilt Bronze Cartel Clock and Companion Barometer By Henry Vian after Jean-Charles Delafosse
$35,000
By Henry Vian after Jean-Charles Delafosse
The tops with a putti holding a fish above garlands, two dolphins sit on each corner and the base designed with more garlands.
The barometer signed h. Vian / A Paris to the enamel dial. The clock signed Folin L'aine / A Paris to the enamel dial and H Vian to the bronze.
Henry Vian was the celebrated bronzier who specialized in the production of bronzes in the 18th century style, particularly light fittings. He participated in the Great Exhibitions of 1878, 1889 and 1900 and received a Gold Medal in 1889. His workshop was based at 5 rue de Thorigny in Paris. His wife and son ran the business after his death in 1905 until 1944, when the city of Paris took over the premises for the l'Ecole des Métiers d'Art.
Jean-Charles Delafosse (1734-1789).
French decorative designer, engraver and architect. By 1767 he styled himself 'architecte et professeur pour le dessin'. In 1768 he published the first volume of his most important work, the Nouvelle iconologie historique. It contains 110 plates, nearly all engraved by Delafosse himself, with designs for furniture, decorative objects and architectural ornament in the heavy, classicizing, Louis XVI style. In addition, each design bears a particular, usually complex, symbolic or iconological meaning, pertaining to an almost encyclopedic range of subject-matter. In some of his designs he manipulated abstract shapes in new ways, using such forms as truncated columns, cones, pyramids, spheres, discs and rectangles, sometimes carefully shaded to appear simultaneously three-dimensional and flat.
Details:
Height – 31 inches / 79cm
Width – 14 inches / 36cm
Depth – 4 inches / 10cm
Maker – Henry Vian