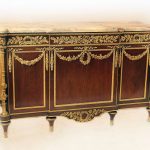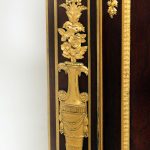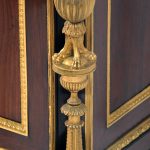 An Exceptional Late 19th Century Gilt Bronze Mounted Louis XVI Style Commode By Henry Dasson
$125,000
Henry Dasson
A marble top above a frieze set with three drawers with pierced laurel decoration, over three garland-hung cupboard doors each with shelves, the sides similarly decorated, on toupie feet.
Signed Henry Dasson 1879 to the bronze mount on the side and stamped Henry Dasson 1879 twice to the back of the carcass.
After the very famous 18th century model by Martin Carlin.
Henry Dasson was considered one of the finest makers of gilt bronze mounted furniture in the nineteenth Century. He established a workshop at 106 rue Vieille-du-Temple, Paris, and specialised in the production of Louis XIV, Louis XV and Louis XVI style furniture using the very finest ormolu mounts with the highest quality mercury gilding. In 1871, Dasson purchase Charles-Guillaume Winckelsen business and remaining stock.
Dasson exhibited at the 1878 and 1889 Paris Exhibition. He displayed Louis XV and XVI styles as well as pieces of his own modified eighteenth century design. The exhibits in 1878 included a table entirely in gilt bronze, purchased by Lord Dudley.
Martin Carlin (ca 1730 – 1785) was a Parisian ébéniste, born at Freiburg, who was received master at Paris in 1766.
Carlin worked at first in the shop of Jean-François Oeben, whose sister he married. He set up independently in the Faubourg Saint-Antoine, an unfashionable quarter of Paris, where few of his wealthy clientele would have penetrated. Carlin sold his works exclusively to marchands-merciers such as Simon-Philippe Poirier and his partner Dominique Daguerre, who acted as decorator-designers. It was only through these entrepreneurs that Carlin could acquire the Sèvres porcelain plaques that decorate many of his pieces. His earliest such pieces are datable by the marks on their porcelain to 1766; they followed designs supplied by the dealer Poirier. Although Martin Carlin made some larger pieces— secrétaires à abattant (drop-front secretary desks), tables, and commodes— he is best known for refined small furnishings in neoclassical taste, some of them veneered with cut up panels of Chinese lacquer, which he would also have received from the hands of the marchands-merciers.
Details:
Height – 37 inches / 94cm
Width – 60 inches / 152cm
Depth – 22 inches / 56cm