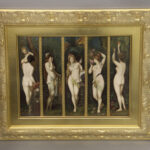 A Beautiful Late 19th Century Berlin K.P.M. – Vienna Style Porcelain Rectangular Plaque of the Five Senses
$75,000
Signed Knoeller
Finely painted after Hans Makart with the five vertical panels, each depicting a female nude against an exotic naturalistic background, emblematic of a senses, the reserves enriched with gilt stylized vine.
Impressed K.P.M and scepter marks, painted blue Beehive mark, within a giltwood frame.
Hans Makart, was an Austrian allegorical painter and designer (1840-1884) who trained at the Vienna Academy between 1850 and 1851 under Johann Fischbach. Makart rejected the established rules of classicism, preferring to embrace the sensual expression of color. He became one of the leading artistic figures of the period in Vienna and an important purveyor of fashionable taste. One of Makart's greatest achievements was staging the vast costumed parades held to celebrate the silver wedding anniversary of Franz Joseph and Empress Elizabeth in 1879. The present work is painted after his five allegorical paintings of the Senses, c.1872-1879, now in the Belvedere Museum, Vienna.
KPM is an acronym for Königliche Porzellan-Manufaktur Berlin, which translates to "Royal Porcelain Factory in Berlin." The company was founded in 1763 by Frederick II of Prussia, who bought the factory from its previous owner, Johann Ernst Gotzkowsky, in the wake of its bankruptcy. Frederick II greatly admired the factory's "white gold," a type of porcelain so fine and translucent that it closely mirrored the high-quality porcelain made in China. He invested large sums of money into the company and granted it the use of the royal scepter as its emblem. He also commissioned many KPM porcelain objects to be made in the Rococo style for his palace.
Plaque:
Height – 12 inches / 30cm
Width – 16 inches / 41cm
Frame:
Height – 19 inches / 48cm
Width – 23.5 inches / 60cm