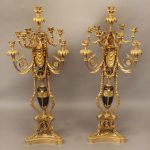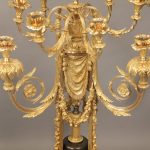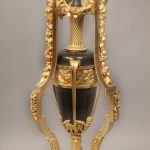 An Exceptional Pair of Late 19th Century Napoleon III Gilt Bronze and Enamel Ten Light Candelabra
$37,500
Attributed to Maison Beurdeley
The ten candle foliate designed branches with leaf drip pans, centered with an enamel vase and a gilt band with cherubs at play, topped with three bronze drapes and garlands of flowers. The triangle bases decorated with female masks and trailing floral motifs on plinth bases.
After the 18th century model by Pierre Gouthière.
This fine pair of candelabra are based on the model by Pierre Gouthière now conserved in the Petit-Trianon at Versailles. According to Pierre Verlet, the model corresponds to a large pair of candelabra with ten branches, drapery, foliage and fruit, richly carved and gilded in bronze, originally supplied by the marchand-mercier, Freres Darnault, for the Salon du Jeu de Mesdames at the Château de Bellevue.
Pierre Gouthière (1732 – 1813) was the most celebrated bronze gilder in France during the eighteenth century, the title of 'Gilder to the King' being given to him by Louis XV. He perfected the most expensive type of gilding of this period, dorure au mat, which involved the use of lavish amounts of gold to create a rich, deep matte finish. As well as working for the King he created items for the Comte d'Artois, the Marquis de Marigny, and the duc d'Aumont.
The collection of the duc d'Aumont was sold at auction in Paris in 1782 and many objects mounted by Gouthière were bought by Louis XVI and Marie Antoinette. His works, unsurpassed in creativity and execution, can now be found in the Wallace Collection and the Louvre.
Beurdeley, Louis-Auguste and Emmanuel-Alfred (1808-1882 and 1847-1919). The firm exhibited and won awards at all of the major international exhibitions during the second half of the nineteenth century. The quality and skill employed in production was of exceptional quality; their ormolu mounts with mercurial gilding and hand chasing were often difficult to distinguish from late eighteenth-century examples, and were considered the finest in Paris. The firm was pioneered by Jean Beurdeley (1772-1853), later managed by his son Louis-Auguste-Alfred, and finally imparted to his son Alfred-Emmanuel-Louis in 1875. The firm was established at 32 and 34, rue Louis-Le-Grand, and also owned the pavillion de Hanovre, where it  was based while Alfred-Emmanuel-Louis added two additional workshops at 20 and 24, rue Dautancourt by 1875. The Beurdeley workshops closed in 1896, although still partially active until 1898 and the stock was sold over a number of auctions conducted by the Galerie Georges Petit of Paris. Two auction catalogues of the collection were published in 1895 and sales were held between March 6-8 and May 27-28.
Among Beurdeley's most prestigious clients were Emperor Napoleon III and Empress Eugénie, the duc D'aumale, Richard Wallace, the Duc and Princess d'Hamilton, Tsarine Alexandra Féodorovna, The Rothschild and Vanderbilt dynasties and the Metropolitan Club, New York.
Details:
Height – 38 inches / 97cm
Diameter – 15 inches / 38cm
Lights – 10